Great Grandview Grape Stomp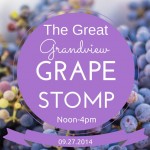 • Prizes for the top Stompers in each category!
• Have some fun! Give your team a whacky name! Wear fun costumes!
• Teams are comprised of 3 members and each member stomps with their bare feet for one minute. The goal is to stomp out the most juice (based on weight). While one team member stomps, another will hold the juice container. Finals will be held at 3:00 p.m. with the top three teams in each category stomping for top prize (first heat weight and second heat weight may be combined if 3 teams or less register per category).
• Early registration fee is $35 per team includes a limited edition Grape Stomp T-Shirt for each team member.
• Registrations after September 17 or on the day of the event are $45 per team and T-shirts only if available. Limited number of T-shirts will be available on the day of the stomp.
SPACE IS LIMITED, SO GET YOUR REGISTRATION IN EARLY FOR A GUARANTEED GOOD TIME!

Open: Fridays 3:30 to 5:30
Saturday 11:30 to 5:30 
Need wine or a tour?
Give us a call at 509-882-7069 to arrange a tour and tasting.
Yakima Valley Vintners is now working to finish the 2013 vintage. Our student winemakers completed the bottling of our 2012 Red wine and we are planning our new releases. We have now opened our new coop tasting room in Seattle's  Fremont District and had a wonderful turn out for a June 21st grand opening.
Yakima Valley Vintners produces between 300 and 500 cases per year. Our award winning wines were first released during the 2008 Yakima Valley Spring Barrel Tasting.  Produced by the students of the Vineyard & Winery Technology Program, these wines have now garnered more 30 awards over the last six vintages. Those initial wines have now become award winners and are all sold out! The good news is more award winners have followed the inaugural year and keep our tasting room fully stocked with reds and whites from the 2008, 2009, 2010, and 2011 vintages.
For more information on the Yakima Valley Community College Vineyard and Winery Technology Programs, please visit www.yvcc.edu/wine