In Washington this past week we have seen near perfect conditions with cool night time temperatures – even cold on some nights – and warm days. More and more winemakers and growers are ready to start harvest over the coming week.
Weather from Horse Heaven Hills to Walla Walla and throughout the Yakima and Columbia Valleys has been just about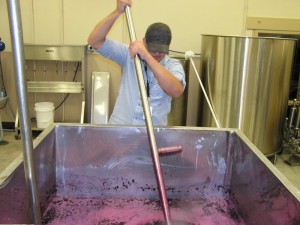 perfect for preparing the fruit for this year's harvest. The temperatures in the 30's are predicted to moderate over the next few days and come back into the 40's and 50's for nighttime temperatures.
Compared to last year, this really feels early, but realistically we are starting right about normal for our region. Great to have a normal year!
The Teaching Winery has been preparing for harvest, checking and testing equipment, making room for fermentation and readying ourselves for not only a great harvest, but the start to a great 2012-2013 school year for our viticulture and enology programs.
Don't forget to stop by and enjoy the fruits of our labor. The Tasting room is open on Fridays and Saturdays or by appointment during the week. 509-882-7069.
Cheers!