Great Grandview Grape Stomp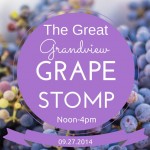 • Prizes for the top Stompers in each category!
• Have some fun! Give your team a whacky name! Wear fun costumes!
• Teams are comprised of 3 members and each member stomps with their bare feet for one minute. The goal is to stomp out the most juice (based on weight). While one team member stomps, another will hold the juice container. Finals will be held at 3:00 p.m. with the top three teams in each category stomping for top prize (first heat weight and second heat weight may be combined if 3 teams or less register per category).
• Early registration fee is $35 per team includes a limited edition Grape Stomp T-Shirt for each team member.
• Registrations after September 17 or on the day of the event are $45 per team and T-shirts only if available. Limited number of T-shirts will be available on the day of the stomp.
SPACE IS LIMITED, SO GET YOUR REGISTRATION IN EARLY FOR A GUARANTEED GOOD TIME!
Our Wines
Our Yakima valley Vinters Wine Availablity List