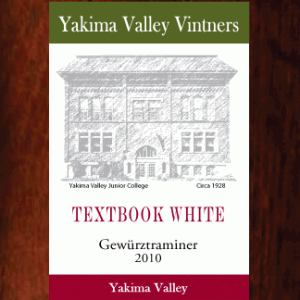 SOLD OUT $13.00
"Gewürz" means spicy, which is a characteristic you will find in this wine. Also note the floral and lemongrass aromas of this off-dry style wine and the fresh apple finish. Enjoy with spicy foods and apple spice cake.
BRONZE MEDAL WINNER: 2011 Washington State Wine Competition
BRONZE MEDAL WINNER: 2011 Tri-Cities Wine Festival
BRONZE MEDAL WINNER: 2012 Seattle Wine Awards
Technical Information

Naches Heights VineyardPhil Cline
Fermentation: Stainless
100% Gewurztraminer
pH: @Bottling 3.10 @Harvest 3.19
Columbia Valley AVA
TA: 0.75g/100mL
Only 19 cases produced
RS: 1.26g/100mL
Alcohol: 13.5% vol
About the Vineyard
The unique volcanic soils in Washington State's newest wine growing region, Naches Heights, combined with our vineyards' unusually high elevation enable us to grow grapes unlike any others.
At Naches Heights Vineyard, we produce our grapes with love. Wherever possible, the grapes at Naches Heights Vineyards are grown using organic or biodynamic practices and follow the guidelines of programs like Salmon Safe. Naches Heights is our home. Nourish your happiness in the natural beauty of Naches Heights Vineyards knowing that we'll do our part so we can all enjoy it for years to come.
We are preserving our vineyards for the next generation because we want to leave the world a better place than it was when we got here. We hope you'll help us reach that goal.