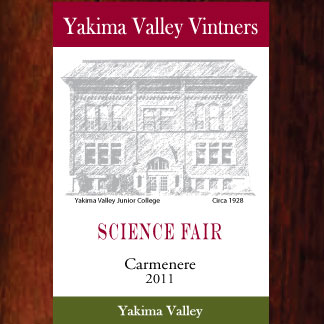 $16.00
As the lost Bordeaux grape, this Carmenere shows complex fruit and floral aromas, balanced with dynamic mouth feel and a velvety finish. There is a hint of spice, earthiness and cranberry in the nose.  Aged in French oak barrel for 16 months.
 Technical Information
Pontin Farms Vineyards

Owner: Scott Pontin

Aging: 17 months in French Oak
100% Carmenere
pH: @Bottling 3.63  @Harvest 3.35
Yakima Valley AVA
TA: @Bottling 0.591g/100mL
Only 48 cases produced
RS: 0%
Alcohol: 13.8% vol
About the Pontin Farms Vineyard
Pontin Farms Vineyards reflect the Pontin Family's lifelong tradition of cultivating the land in the Yakima Valley. Located in south central Washington in the heart of the Yakima Valley AVA. Today Pontin del Roza is a thriving estate winery with over 100 acres of 10 varietals including: Riesling, Malbec, Syrah, Dolcetto, Sangiovese, Cabernet Sauvignon, Carménère and Petit Verdot. With production at around 4,500 cases per year, many grapes are still sold to other wine producers, including those grapes used by Yakima Valley Vintners at the YVCC teaching winery.
About the Yakima Valley AVA
The Yakima Valley AVA was the first American Viticultural Area established within Washington State, gaining the recognition in 1983. Part of the larger Columbia Valley AVA, Yakima Valley AVA is home to more than 11,000 acres of vineyards, giving the area the largest concentration of wineries and vineyards in the state of Washington. The most widely planted varietals in the area are Chardonnay, Riesling, Merlot, Cabernet Sauvignon, Pinot Gris, and Syrah. Nearly 40% of Washington state yearly wine production is made from Yakima Valley grapes.