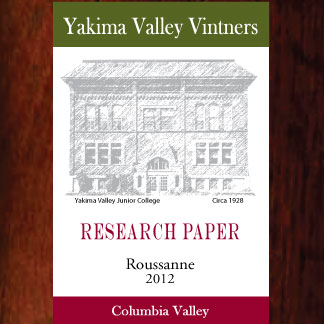 SOLD OUT $14.00
A richly complex wine with a sunshine tint, you will experience a bold and expressive nose of lemongrass, white peach, honeydew, with a full bodied, smooth citrus finish. Pair with a nice halibut or a refreshing melon salad.
SILVER MEDAL WINNER: 2013 Tri-Cities Wine Festival
Technical Information

Six Prong
Fermentation: Stainless
100% Roussane
pH: @Bottling 3.23 @Harvest 3.35
Horse Heaven Hills AVA
TA: 0.59g/100mL
Only 22 cases produced
RS: 0g/100mL
Alcohol: 13.9% vol
About the Vineyard
Coyote Canyon is a reflection of the Andrews Family's lifelong tradition of cultivating the land. Located in south central Washington in the heart of the Horse Heaven Hills AVA, this unique terroir and climate has nurtured Coyote Canyon's award winning premium grapes since 1994. Mike Andrews is owner and winemaker of Coyote Canyon Winery and partner in the 1,135-acre Coyote Canyon Vineyard that supplies grapes to a number of other wineries, including those grapes used by Yakima Valley Vintners at the YVCC teaching winery.