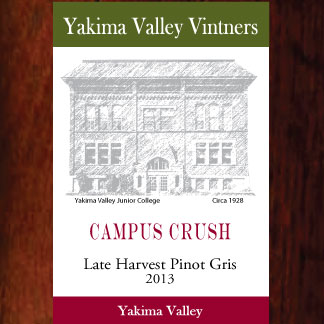 $22.00
This exciting late harvest wine will greet your nose with banana nut bread, pear, and fresh apricots.  It will dance on your palate and leave a pleasant finish of honeysuckle and orange zest.
 Technical Information
Two Coyote Vineyard
Fermentation: 19 months in stainless steel
100% Pinot Gris
pH: @Bottling 3.12 @Harvest 3.90
Yakima Valley AVA
TA: 0.72g/100mL
Only 16 cases produced
RS: 8.5%
Alcohol: 12.02% vol
About the Yakima Valley AVA
The Yakima Valley AVA was the first American Viticultural Area established within Washington State, gaining the recognition in 1983. Part of the larger Columbia Valley AVA, Yakima Valley AVA is home to more than 11,000 acres of vineyards, giving the area the largest concentration of wineries and vineyards in the state of Washington. The most widely planted varietals in the area are Chardonnay, Riesling, Merlot, Cabernet Sauvignon, Pinot Gris, and Syrah. Nearly 40% of Washington state yearly wine production is made from Yakima Valley grapes.